Over the last 14 years that I've had
MC-202 Hack
available in its various versions, I've repeatedly gotten requests to create an "MC-4 Hack" for the Roland MC-4 sequencer. It of course makes perfectly logical sense, as the sequencers in the two devices are very similar, and from roughly the same time period in Roland's history.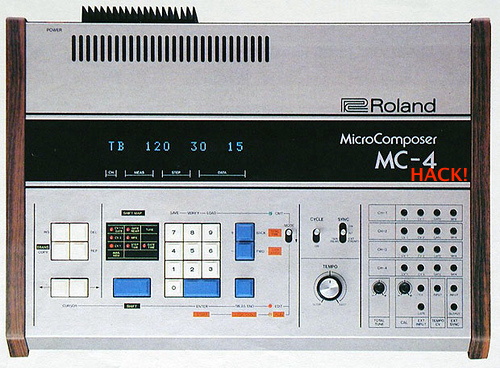 Two problems though: (1) I don't currently and never have owned an MC-4, and they are currently cost prohibitive for me to buy, and (2) after a quick look at some sequencer cassette dumps sent to me by an MC-4 owner, although the encoding scheme seems similar, they are not exactly the same, both from an audio FSK encoding scheme perspective, as well as how the bit sequences relate to the note sequences.
Recently though, I have made some progress in being able to convert the MC-4 audio squelch into bit sequences, so hopefully with more work, I might be able to get all the way to decoding the structure. Which brings me to two questions:
1) Are there people out there willing to send me multiple short sequence dumps from their MC-4, with very specific sequence information embedded in them? Doing this kind of reverse engineering can require many (potentially hundreds, maybe fewer, we'll see) of these dumps, and so I was thinking if I distributed the load to a few people, then the burden would not be so great. Of course, for those who contributed in a significant way to this effort, you would be paid back for your time with a copy of the software when done...
2) Unlike the MC-202, which lent itself to sequence creation on the device itself because of its mini keyboard, I don't think that the MC-4 has the same effect - people don't just sit down at their MC-4 and compose a sequence. If I'm correct here, then the need to be able to go from MC-4 sequence back to MIDI sequence (as in the latest version of MC-202 Hack) is reduced/eliminated. That would make the development of an MC-4 Hack app much easier - in other words, to only go from MIDI and/or computer-based sequence to the MC-4, and not the other way round.
Thoughts?