defective records
h i s t o r y
---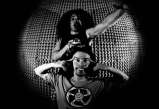 Defective Records was formed in early 1994 by Dan Nigrin and Bump Stadelman in Baltimore, Maryland, USA. Long time dance music DJ's, they created the label with the sole purpose of releasing their own musical creations as Glitch; however, it soon became apparent to them that Baltimore needed its own electronic music label, to release the growing quantity of excellent material being created there.
Before long, the label had outgrown its humble beginnings, and had signed on talented artists from the rest of the USA, and now, from the rest of the world. Defective stimulated others in Baltimore to follow in their footsteps, and the city now boasts several top notch electronic music labels, in addition to its burgeoning club, press, and retail music scene. Baltimore itself could no longer contain Defective after a while, and so the label now maintains offices both in Baltimore and in New England.
From the start, Defective hasn't supported one genre of electronic music. We're not trance, not acid, not hardcore, not trip-hop, not intelligent dance music, not ambient, not industrial, not jungle. We're all of those, and more. We release music that we think is different, exciting, and that we would buy if we were in the record store.
home | history | discography | forum | ordering | contact