welcome to the unofficial Peavey PC1600™ & PC1600x™ user page

this site serves as a repository for patches, tips and techniques for these excellent machines...
use our new forum to ask questions, post tips, etc...

pc1600 & pc1600x editors, librarians, etc...

pc1600 patches (in *theory*, upward compatible with pc1600x)

pc1600x patches (for the most part downward compatible with pc1600 - read details about this here )

Having trouble using *.sit files? Decompress them with Stuffit Expander, available for Mac or PC for free from Aladdin Systems

tips & useful items
Photos of installation of non-volatile memory, no battery option for PC1600(x), by Jo Vandeweghe , using gear by Ken Fox
Replace standard NiCad battery with NiMH, or even non-volatile no-battery option!
Difference between blue and grey PC-1600xs, by John Fera of Peavey
Summary of most recent PC-1600x firmware versions, by John Fera of Peavey
A thread on the Peavey forum about replacing the PC1600's LCD, by Dan Nigrin
Interesting note about DC power supplies, by Anthony Gore
Use your PC-1600x as a LARC unit for the Lexicon PCM80 or 81 - text description, or original thread on the Music Gear Network, submitted by Paul Weber
Rack mount your PC 1600(x)! pictures, and description, by Mike Goins
Map your PC1600(x) to ProTools[424k], nice utility by Hans Tutschku
New paint and buttons for your PC1600(x) by Atom Smasher
Four Presets to send Polyphonic Aftertouch Controller Messages[4k] for PC1600 and PC1600x by Scott Holmes - more info
EMagic Sounddiver adaptation v1.2[12k] for PC1600 and PC1600x by Claude Voit - more info
Template [984k] for Native Instrument's B4, in .pdf format (adaptation of Godric Wilkie's templates by Ashley Morris
Another useful approach to keeping track of what sliders and buttons do in each of your different patches
Tip on sending channel pitch bend.... and a new comment about this tip.... and a comment on the comment... and a further comment
How do I send a continuous controller message with a button push?
Some *very* nice templates [43k] for a bunch of Godric Wilkie's patches listed above, in PDF format. If you have the full version of Adobe Acrobat, you could modify these to suit your own patches too!
Device driver (new v1.01) for Cubase Studio Module (PC version), allowing interface with PC-1600x, by Gilbert Poliquin. Info here
double your pc1600's memory!!! - a totally cool hack by Godric Wilkie
a poor man's Doepfer MAQ 16/3 - use your PC1600X as a 16 step sequencer with note values controlled by the faders!
use your Logic sequencer and the pc1600 as an analog sequencer! (description) (download Logic environment)
links
submitting your own patches, tips, etc.
For tips, tricks, questions, etc.. - please use our forum.

For patches, just send me a note, and once I give you the OK, you can just attach it to me in an e-mail message. Please also have a text file ready that describes the mappings of the faders and/or buttons, and any other special features.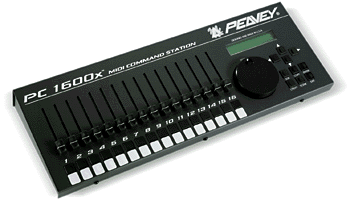 this web site designed and maintained by dan nigrin
it is not affiliated with peavey
these patches are not guaranteed to work - please contact the author of the patch if you find one that doesn't
last updated March 13, 2014.